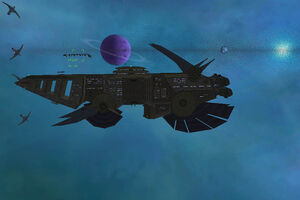 The Battleship Nagumo was constructed in 723 A.S. as part of the recent Kusari emphasis on military development. The Nagumo was initially stationed in the Kyushu system as a strategic deterrent against criminal intrusion from the neighboring border worlds; however, its mission has since been expanded to include protecting the Nansei Research Complex and preventing incursions by Blood Dragons.
Ships Selling
Edit
Commodities Selling
Edit
Mine Dispensers For Sale
Edit
Razor Mine
Seeker Mine
Tadpole Mine
Wardog Mine
MILITARY INTERCEPTS DRUG SHIPMENT: BATTLESHIP NAGUMO -- A Kusari Naval Forces patrol based on the Battleship Nagumo intercepted three Golden Chrysanthemum ships heading west through the north edge of the Ohka Dust Field. The three smugglers came back positive on Cardamine scans and did not respond when ordered to stop. The military patrol then engaged and destroyed the enemy; a large amount of the illegal drug was collected from the wreckage. Only one military craft was destroyed in the engagement.
Ad blocker interference detected!
Wikia is a free-to-use site that makes money from advertising. We have a modified experience for viewers using ad blockers

Wikia is not accessible if you've made further modifications. Remove the custom ad blocker rule(s) and the page will load as expected.