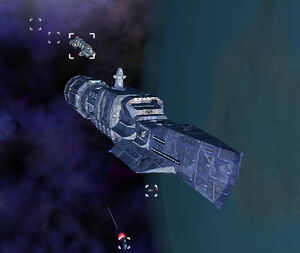 Deployed in orbit around California, the Battleship Yukon is part of the Liberty Navy's effort to keep a close eye on Lane Hackers and to crack down on pirate activity. It is also used as a base for patrolling the Trade Lanes to and from Magellan and Cortez that are plagued by pirate attacks.
CLASS: Overlord
CREW: CLASSIFIED
ARMAMENT: CLASSIFIED
Ships For Sale
Edit
Guns For Sale
Edit
Justice Mk I
Justice Mk II
Justice Mk III
Lavablade Mk I
Lavablade Mk II
Lavablade Mk III
Magma Hammer Mk I
Vengeance Mk I
Turrets For Sale
Edit
Justice Turret Mk I
Justice Turret Mk II
Missiles For Sale
Edit
Mine Dispensers For Sale
Edit
Drone Mine
Razor Mine
Seeker Mine
Wardog Mine
YUKON WILL RETURN TO NEW YORK: BATTLESHIP YUKON -- The Battleship Yukon is in need of repairs and maintenance. The ship will soon be on its way to the Norfolk Shipyards for refitting and rearming. The LPI states that this maintenance will not leave the system vulnerable to attack from outlaws because the security contingent in California will be tripled during the estimated six-month hiatus. "It's time the old girl had a paint job," quipped Yukon's chief engineer, George Stuart. Although the Yukon will need quite a bit more than a new coat of paint, military officials say that this is no more than routine maintenance.
"I just got reassigned from the Mississippi based in Texas. We were in Hudson chasing down Xenos and Rogues. The Rheinland Military doesn't help at all in that area. Guess they're broke." - Lieutenant Justin Kreen, Liberty Navy
"I just got out of West Point last week. This is my first assignment. I'm patrolling the Lane between here and the Cortez Gate. So far it hasn't been as interesting as I thought it would be." - Lieutenant Jan Spanik, Liberty Navy
"We could clean up this second if the Guild would just tell us where the Jump Holes are. We know one is in the Tahoe Cloud, but have been unable to locate it. New York doesn't let us vary our patrol routes as much as we would like." - Yukon Bartender Dan Atkinson
"Our toughest patrol in the system is the Tahoe Cloud circuit. We usually see somebody in there. Tough to track them down, though -- short visibility and lots of asteroids." - Lieutenant Justin Kreen, Liberty Navy
"We handle the west side of the Trade Lane to the Magellan Gate, LPI, the east. In my opinion, we should handle everything in there. They wouldn't know what to do with a Lane Hacker or an Outcast if they caught one." - Yukon Bartender Dan Atkinson
"The Outcast smuggling route goes right along the Trade Lane in the Tahoe Cloud for some reason. We've caught a few that way. Guess they can't resist the temptation to snag some cargo." - Lieutenant Jan Spanik, Liberty Navy
Ad blocker interference detected!
Wikia is a free-to-use site that makes money from advertising. We have a modified experience for viewers using ad blockers

Wikia is not accessible if you've made further modifications. Remove the custom ad blocker rule(s) and the page will load as expected.