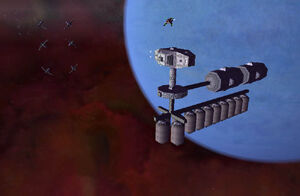 Cardiff Mining Facility is run by the Independent Mining Guild (IMG) and processes most of the Beryllium mined in Bretonia's asteroid fields. Processed Beryllium is delivered to buyers by Gateway Shipping, an IMG partner.
CLASS: Wellington
GRAVITY: Partial
DOCKING: Yes
AMENITIES: Limited
POPULATION: 500
-None.-
Mine Dispensers For Sale
Edit
Ad blocker interference detected!
Wikia is a free-to-use site that makes money from advertising. We have a modified experience for viewers using ad blockers

Wikia is not accessible if you've made further modifications. Remove the custom ad blocker rule(s) and the page will load as expected.