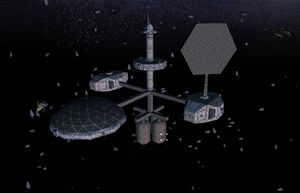 Freeport 1 was founded by a group of Zoners over sixty years ago. It was the first station of its kind to be declared open to all, and it still provides a place for commerce and Food sales to everyone, regardless of legal status.
LOCATION: Omega 3 system
OWNER: Zoners
CLASS: Dern
GRAVITY: Complete
DOCKING: Yes
AMENITIES: Yes
POPULATION: 2K
Freeport 1 is a Zoner base in the Omega-3 system that serves as a waystation for ships traveling between Bretonia and Rheinland. The station was originally owned by construction crews, but after it was abandoned, the Zoners took control and named the station Freeport 1. It was the first station to be open to all.
Ships Selling
Edit
Commodities Selling
Edit
Guns For Sale
Edit
Turrets For Sale
Edit
Mine Dispensers For Sale
Edit
Razor Mine
Tadpole Mine
Wardog Mine
Seeker Mine
Ad blocker interference detected!
Wikia is a free-to-use site that makes money from advertising. We have a modified experience for viewers using ad blockers

Wikia is not accessible if you've made further modifications. Remove the custom ad blocker rule(s) and the page will load as expected.